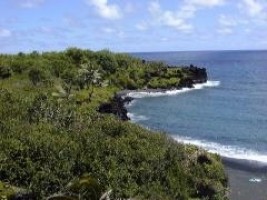 Maui is known as the and was named after a mythical ancient Hawaiian figure who it was said fished out the islands (dragged them up out of the ocean) with a giant fishing hook.
Maui is the second largest of the Hawaiian islands. It has a land mass of 730 square miles, and a population of approximately 110,000 residents. It is the second most popular island for tourists & visitors. The county of Maui also includes the islands of Molokai , Lanai & Kahoolawe.
Maui is also known as the Valley Isle, due to the valley created between two large dormant volcanoes: Pu'u Kukui and Haleakala. The Haleakala Crater is the world's largest dormant volcano, and is a major attraction on Maui. It rises to over 10,000 feet at the summit, and has generated its own ecosystem within the crater.
Other attractions on Maui include the historic whaling town of Lahaina, excellent snorkeling at Molokini, and the beautiful road to Hana. Maui also has the best whale watching on the Hawaiian islands, from December through March. Popular Ka'anapali beach is home to many beautiful resorts and hotels, and has considerably more "nightlife" than Kaua'i.