Salt Pond Beach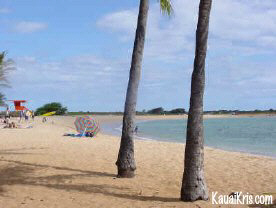 This beach is the site of the only natural salt ponds in Hawaii that are still used to make sea salt.
The beach is separated by two points, and the area inside is usually calm, offering safe swimming and a good place for the kids to play, except in conditions of high surf. Past mile #17 in Hanapepe, off Lele Road.
Barking Sands
This beach is located on the Pacific Missile Range Facility but is usually open to the public on weekends, or after 4:00pm on weekdays. Head through the main gate to the guard house. The beach is on the north.
Polihale State Park
Polihale extends for 15 miles of uninterrupted beach. The state park is at the far end of the road. Beyond Polihale is the NaPali coast which can only be reached by boat, air, or a serious hike. This is the dry side of the island and sand gets quite hot here.
Polihale Sunset
The beach is very wide and there are also sand dunes that can reach as high as 90 or 100 feet. While it might be tempting for some, be aware that driving on the sand can get you STUCK and getting towed out can be very expensive. Take Hwy 50 all the way to the end, taking the right fork in the road. Take the first dirt road to the monkeypod tree and stay left. Queen's pond, which is partially protected by a reef is about the only area in Polihale that is safe to swim in
Read :  Beaches in Island