Hawaii is a collection of several islands including Kauai which is among one of the most famous island of Hawaii. Kauai is popular among Hawaii visitors for offering variety of fun-filled activities. There are so many activities and adventure to enjoy just in Kauai itself that you may not find enough time to visit other islands of Hawaii. Kauai is one of the oldest islands of all Hawaiian Island. The Island is marked with dense forest, rich foliage, rare exotic flower and amazing strands of beaches. Irrespective of what brings you here to Kauai, whether it's a family trip or a business trip or a honeymoon trip, you will surely find plenty of activities that are just right for the occasion. We bring to you few selected handpicked activities that you should definitely try on your trip to tropical Kauai Island.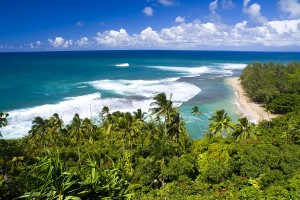 Helicopter Ride
Helicopter ride is an amazing experience in itself, while taking a ride over this tropical island covered with dense forest and enough mesmerizing sceneries and landscapes, add up well to the overall experience and is sure to blow your mind away. Some things you will never be able to see in your entire life except through helicopter ride such as close-up view of most amazing waterfall, foliage and cliffs. One of the best perk of enjoying helicopter ride is to get a good view of Mountain Waialeale which is just impossible to see without helicopter. This extreme adventure activity can come as an expensive proposition, but then any good thing comes at a good cost.
Waimea Canyon and Koke'e State Park
The Park provides incredible view of Kauai. It has many hiking paths leading to Waimea Canyon and other strategic areas for viewing. The park is huge so you will need almost a complete day exploring it.
Waialua River Valley
This is the only river in Hawaii and offers amazing boat rides and kayak trips for tourist. The trip offers a good view of foliage, wildlife and the Fern Grotto. You can spend good time navigating the river and enjoying the scenic beauty of the island and the Waialua River.
Limahuli Garden and Preserve
This is among one of the most beautiful botanical garden in the United States and offers 1000 acres of flora and fauna. If you are fond of nature, you can go for guided tours to obtain in depth tour and learn about some of the rare plants species you might find only here.
Play Golf
Kauai doesn't have plenty of golf courses to its credit, but the one it has is simply out of the world. It is designed by PGA heavyweights like Jack Nicklaus. If you are a Golf lover, you must check out this amazing course. If you are planning to visit any time during fall, you might as well want to attend the PGA's Grand Slam. Since this event is a highlight of the season, you will need to buy tickets in advance to avoid any last moment disappointment.