If you are vacationing on Oahu, you can get by without renting a car because so many things are centralized in the Waikiki area, and they have good public transportation. On Kauai it is a different story. You will want to travel around the island to see all its beauty, and for that, you'll need a car. Honestly, because town, shopping and beaches are spread apart, unless you intend to take a taxi to your hotel and just stay in your room or on the nearby beach for your entire trip, you must rent a car.
Drivers on Kauai are some of the most patient and polite I have ever encountered. Most of them are more than happy to stop and let you into traffic and they are not in a big rush to get somewhere. Honking is considered very rude and most likely, if you do hear someone honking, it's a tourist that still needs to relax and unwind.
Visitors are welcome on Kauai. Be sure to show the local Kauai people the same friendliness and courtesy they so willingly extend to us, including on the road.
Several rental car companies serve the island, including Thrifty, Budget, Hertz, National & Dollar. Nearly all car types are available from economy to luxury to convertibles and SUVs.
If you are looking for a rental of the two-wheeled variety, there are also motorcycle and scooter rentals available on Kauai for those looking for more excitement and wind in their hair.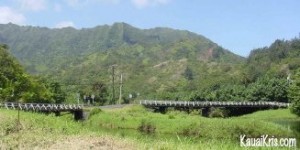 One note about north shore bridges — There are many wonderful, charming one lane bridges on the north shore of Kauai that you'll certainly be venturing across if you want to enjoy that enchanting beauty you'll find on your way to Ke'e. While on the mainland and elsewhere it may be customary to treat such a bridge as you would a flashing red traffic signal (allowing 1 car to pass and then a car from the other side to pass) this doesn't work on Kauai. Instead, it is expected that a small group of cars – perhaps as many as five or six – currently lined up and waiting on one side will go at the same time. So if you're within about six cars from the front of a line, and the car in front of you is going, you should go, too. Do be courteous, however, and allow the oncoming cars a turn as well. Don't race to get to the end of a moving line of cars. If there's a break between you and the car ahead, stop and give the cars from the other side a chance to go. If you find yourself on the waiting side, sit back and enjoy the scenery while the few cars roll by. You'll get your turn soon enough.